Location
Emplacement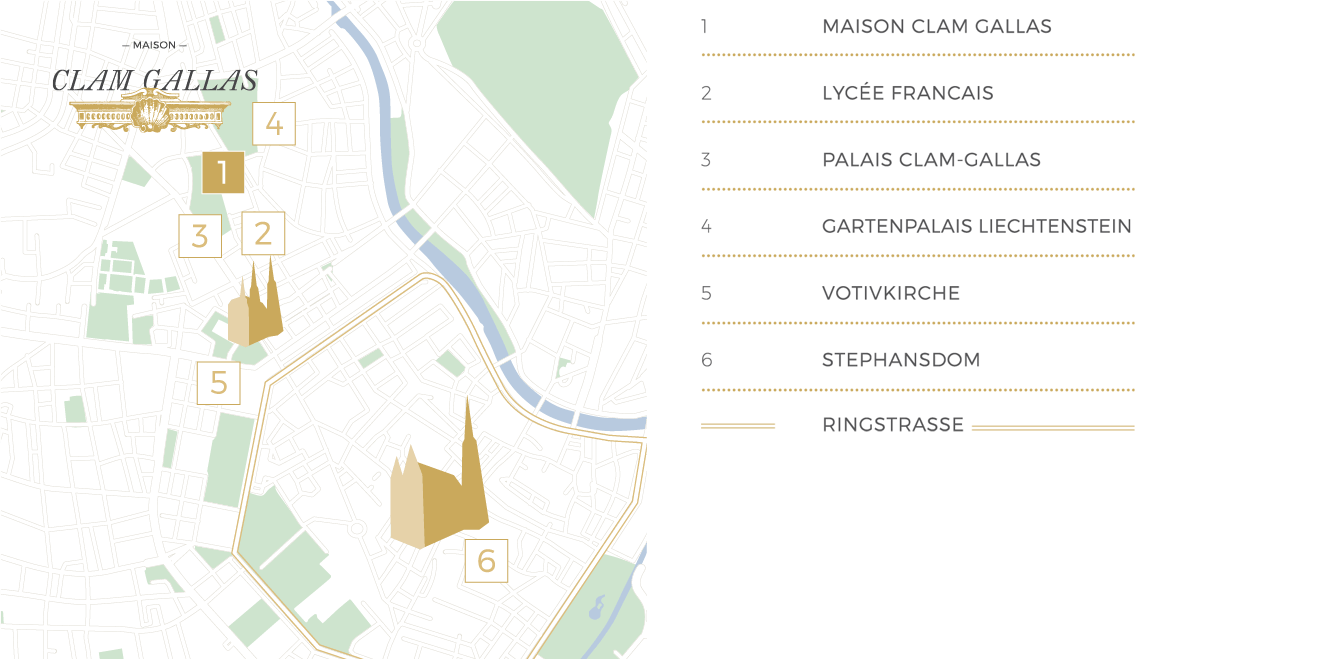 The Surrounding
Milieu
---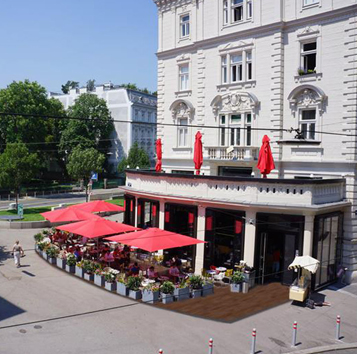 EN Exclusive boutiques, charming cafés, elegant restaurants – the Servitenviertel, whose name refers to the Servite monastery founded here in 1639, is an area that pulsates with life. The Lycée Français which is based here is not the only source of the all-pervasive French sense of style. The lively squares, tucked-away open air restaurants and beautifully designed shopfronts that characterise the streetscape here could just as easily be found on the banks of the Seine in Paris.
Only 400 metres from the Maison Clam Gallas is the tempting Danube Canal with its numerous pubs and bars and its engaging holiday atmosphere. This is the ideal place to relax, not only over a drink after work, but also with a nice long walk or a gentle jog.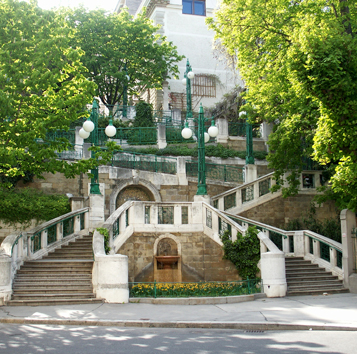 If you want to take in a few sights in the immediate vicinity, a good place to start would be the Votive Church or the famous Strudlhofstiege (outdoor staircase) that links Liechtensteinstraße with Strudlhofgasse. A stroll through the grounds of the neighbouring Clam-Gallas Palace with its children's play area and idyllic lakes is just the thing if you're after some outdoor relaxation. And if you prefer to enjoy the outdoors closer to home, you can simply take a seat in the Maison Clam Gallas' lovingly designed private garden.
Transport links are unparalleled as well, with busses, trams and the underground all easily reachable on foot and connecting the Maison Clam Gallas effortlessly with the main areas of the city. If you don't want to do without your car, though, there is a car park directly in front of the building where a permanent parking space can be rented. You can be on the motorway in around ten minutes and at the airport in about twenty.
---
FRBoutiques exclusives, cafés de charme et élégants restaurants – le quartier de Servitenviertel, qui doit son nom au cloître des Servites, fondé ici en 1639, est un espace empreint de dynamisme et de joie de vivre. Partout perceptible, l'ambiance française ne se manifeste pas seulement par la présence dans le quartier du Lycée français. Les places animées, les petits jardins privés et les boutiques amoureusement aménagées qui caractérisent l'image de cette rue sont tout à fait comparables à ceux que l'on pourrait trouver en France sur les bords de la Seine.
À dix minutes à pied à peine de la Maison Clam Gallas se trouvent de nombreux restaurants renommés – depuis l'auberge Alt Wiener jusqu'au restaurant italien. Et tant d'autres où les gourmets sont assurés de trouver un excellent accueil. Sans compter les épiceries fines de luxe, les merveilleuses pâtisseries et confiseries et autres délices des quatre coins du monde et tant d'autres petites boutiques de proximité.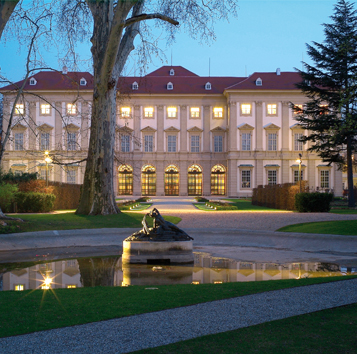 À 400 mètres à peine de la Maison Clam-Gallas coule le canal du Danube, ses innombrables petits cafés et restaurants et son agréable ambiance de vacances qui sont autant d'invites à la détente et à la convivialité – rencontre au café après le travail, longues flâneries ou jogging décontracté.
Comme objectifs de circuits touristiques dans les environs immédiats, on ne peut que conseiller l'Église votive ou le célèbre Strudlhofstiege, qui relie la Liechtensteinstraße à la Strudlhofgasse. Et nous recommandons à ceux qui aspirent à la détente et au plein air une promenade à travers le parc situé à proximité du Palais Clam-Gallas, avec son aire de jeux pour enfants son charmant bassin. Et ceux qui recherchent de la verdure à deux pas de chez eux peuvent aller flâner dans le beau jardin joliment aménagé de la Maison Clam-Gallas.
Quant au réseau de transport, on ne saurait rêver mieux : les autobus, les tramways et le métro sont accessibles à pied et permettent de se rendre facilement de la Maison Clam Gallas jusqu'au points centraux de la ville. Et celui qui ne souhaite malgré tout pas renoncer à sa voiture peut louer une place permanente dans le parking situé directement devant la Maison. L'autoroute est à environ dix minutes en voiture et l'aéroport est accessible en 20 minutes à peu près.