Architecture
l'architecture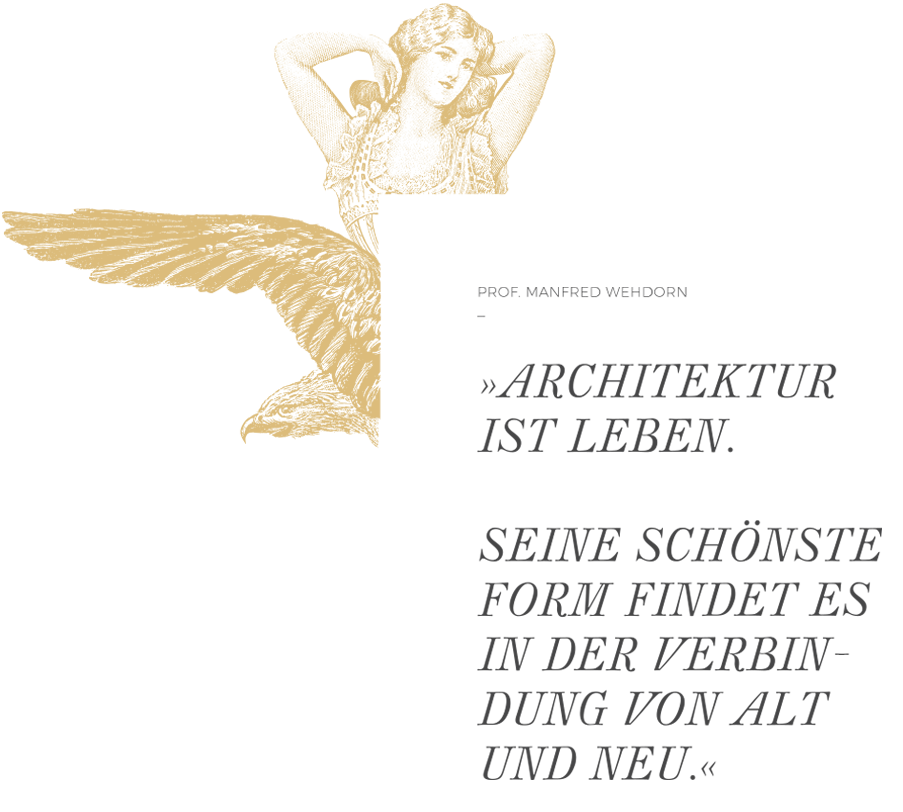 ---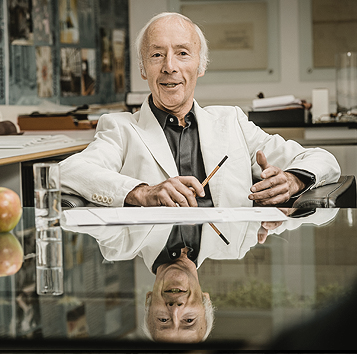 EN
Grace and elegance, architectural splendour, the allure and charm of days gone by, but which now shine with new brilliance – when you enter the Maison Clam Gallas, you are quickly caught up by the magic and beauty of this exceptional building. The attractive entrance leads from the staircase into a glamorous vestibule with an illuminated ceiling. The eye is drawn to the detailed stucco work and the wrought iron grille in front of the lift. The fact that the building was one of the first private houses in Vienna to be equipped from the outset with an electric passenger lift underlines the high standing of its creator.
The challenge of retaining the charm of the past and bringing it with loving attention to detail into the present has been met by no less a person than Professor Manfred Wehdorn. Renowned for his revival of numerous architectural treasures in Vienna and throughout the world, he and his team of Wehdorn Architects are now responsible for the revitalisation of this building. And so the property built in 1899 in the late Wilhelmine style by architect Albert Naar will shine with renewed brilliance in 2016.
With the development of the fourth floor, the top floor and the roof terrace of the late Wilhelmine house, Wehdorn Architekten Ziviltechniker GmbH is bringing one of Vienna's historic monuments into the twenty-first century. With loving attention to detail, the architects are linking the charm of the old town with French flair and contemporary luxury.
The distinguished features of the existing buildings will be carefully preserved so as to safeguard the tradition and history of the property for the future. A historic gem is coming into being in the heart of Vienna – one that presents the particular flair of the late 19th century as an integral part of a unique new way of life.
---
FR
Le charme spécifique de cette belle et exclusive demeure est immédiatement perceptible à peine le seul franchi. Cette grâce et cette élégance, cette splendeur architecturale empreinte de la nostalgie des temps enfuis retrouvent aujourd'hui un éclat nouveau. La superbe entrée débouche sur un escalier qui mène au prestigieux vestibule à plafond lumineux. Le regard glisse sur les moulures en stuc richement travaillées et sur la grille d'ascenseur en fer forgé. La maison fut l'une des premières demeures privées de Vienne à être dès le début équipée d'un ascenseur électrique, ce qui dénote à l'évidence les hautes ambitions de ses propriétaires.
Conserver vivant le charme du passé tout en parvenant à le transposer avec un grand amour du détail dans le présent constitue un défi que relève, avec une immense expérience et un extraordinaire doigté, un expert en la matière qui n'est autre que le Professeur Manfred Wehdorn. Riche d'une prestigieuse notoriété dans le domaine de la restauration de divers trésors architecturaux tant à Vienne que dans le monde entier, le Professeur Wehdorn assure avec son équipe d'architectes la restauration de cette noble demeure construite en 1899 dans le style néoclassique par l'architecte Albert Naar. Un monument qui devrait retrouver en 2016 un éclat nouveau.
MLa restauration du IVème étage, des combles et de la terrasse de toit de cette demeure de style néoclassique constitue pour le bureau d'architecte Wehdorn Architekten G.m.b.H l'insertion dans le vingt-et-unième siècle d'un monument historique de Vienne. C'est avec un grand amour du détail que cette équipe d'architectes s'emploie à concilier charme de la vieille ville, confort moderne et ambiance française.
Il est essentiel de préserver pour les temps à venir, tel un trésor gardien de la tradition et chargé d'Histoire, la richesse du patrimoine architectural de cette demeure. C'est ainsi qu'est en train de renaître, en plein coeur de Vienne, un joyau riche d'Histoire dans lequel l'atmosphère particulière de la fin du 19ème siècle est élevée au rang d'unique "art de vivre"